By this way, the oldest tale of cotton has started to be written in our region having our factories in which we produce the top quality towels and bathrobe by processing the best cotton. Like many firms in Denizli, our progress on the path of production in modern facilities started with the trade of fabrics manufactured on the old shuttle looms as well.
Zorel was established as warping, sizing and weaving factory in 1989. Zorel Tekstil, which started exporting in 1996, has reached to an export figure amounting to around 15 million dollars annually in 9000 m2 closed area with its 180 employees. It addresses the selected home textile purchasers in many countries especially the ones in England, America and Europe.
Zorel Textile  Manufacturing Sales. Ind. and  Trade Corp. was established in the district of Centrum -Denizli for the purpose of carrying out production, purchase–sales, export–import of textile products in 1989. Our firm makes the processes of weaving dyed and confection.
In our facility's  weaving section, 12 pieces of dobby and 6 pieces of jacquard weaving machines are available; and ready-wear section consists of two areas as automatic line and manual line. In manual line, 16 pieces of confection machine, 2 pieces of longitudinal sewing machine, 1 piece of longitudinal cutting machines are available.
Our facility can provide service to the customers as a weaving capacity of 5.5 ton /day and a ready-wear capacity of 5.5 ton /day.
TEXTILE PRODUCTS
Our firm carries out weaving and ready-wear clothprocesses for towel and bathrobe.
TEXTILE LAYOUT
It is situated on a total area of 32,000 m2 together with an averagetotal closed area of 11.000 m2 and green and other open ares.
Meet our customers' current and future needs and expectations and be a customer – focused company,
Comply with all applicable legal requirements,
Be one of leading company in home textile industry and increase the share of international market and contribute to Turkey's economy,
Improve the management system continuously with our trained and participating employees,
Provide a safe and environment-friendly workplace environment for employees,
Work with our suppliers in partnership and ensure their compiance to our quality policy .
OUR CERTIFICATES
Oekotex 100 Class 1
---
Terry towels, kitchen towels, beach towels, sauna towels, bathrobes, bathmats, wash gloves (widht polyester and cotton cord, yarnd dyed), partly with embrioidery and border (polyester and viscose, yarn dyed) made of White, dyed as well as dyed terry fabric produced from cotton/viscose(bamboo), includibg accessories (sewing and embrioidery threads, interlining, wowen and printed labels); exclusively produced from materials certified according to Oeko-Tex®
Standard 100.
The results of the inspection made according to Oeko-Tex® Standatd 100, product class I have shown that the above mentioned goolds meet the human-ecological requirements of the standard presently established for baby articles.
The certified articles fulfil the requirements of Annex XVII of REACH (incl. The use of azo-dyes, nickel, etc.) as wel as the American requirement regarding total content of lead ind children's articles (CPSIA; with the exception of accessories mde from glass).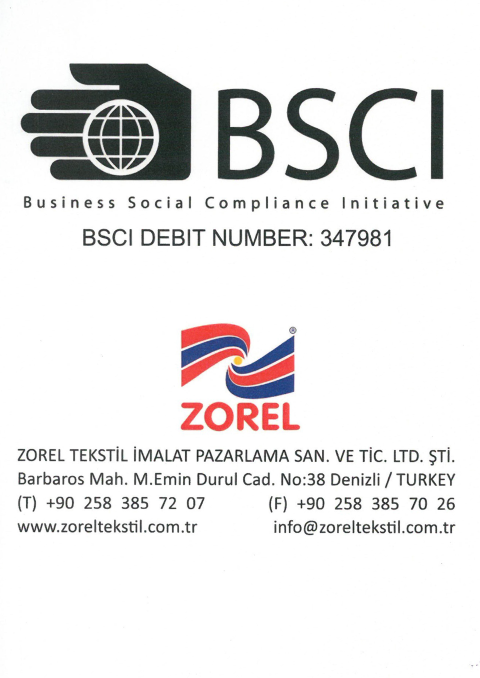 ---
The Business Social Compliance Initiative (BSCI) is a leading supply chain management system that supports companies to drive social compliance and improvements within the factories and farms in their global supply chains. BSCI implements the principle international labour standards protecting workers' rights such as International Labor Organization (ILO) conventions and declarations, the United Nations (UN) Guiding Principles on Business and Human Rights and guidelines for multinational enterprises of the Organization for Economic Co-operation and Development (OECD).
Why BSCI Exists?
In the context of globalisation, retailers, importers and brands source products from supplying companies around the world. Many of them are located in countries where national laws protecting workers are inadequate or poorly enforced. To address this, many companies and associations have created individual codes of conduct and their own implementation systems.
The proliferation of individual codes, diverse auditing procedures and diverging implementation approaches have resulted in confusion and unnecessary duplication of efforts and costs for retailers, importers and brands as well as their producers.
---
The ISO 9000 family addresses various aspects of quality management and contains some of ISO's best known standards. The standards provide guidance and tools for companies and organizations who want to ensure that their products and services consistently meet customer's requirements, and that quality is consistently improved.
Standards in the ISO 9000 family include:
ISO 9001:2015 - sets out the requirements of a quality management system
ISO 9000:2015 - covers the basic concepts and language
ISO 9004:2009 - focuses on how to make a quality management system more efficient and effective
ISO 19011:2011 - sets out guidance on internal and external audits of quality management systems.
ISO 9001:2015
ISO 9001:2015 sets out the criteria for a quality management system and is the only standard in the family that can be certified to (although this is not a requirement). It can be used by any organization, large or small, regardless of its field of activity. In fact, there are over one million companies and organizations in over 170 countries certified to ISO 9001.
This standard is based on a number of quality management principles including a strong customer focus, the motivation and implication of top management, the process approach and continual improvement. These principles are explained in more detail in the pdf Quality Management Principles. Using ISO 9001:2015 helps ensure that customers get consistent, good quality products and services, which in turn brings many business benefits.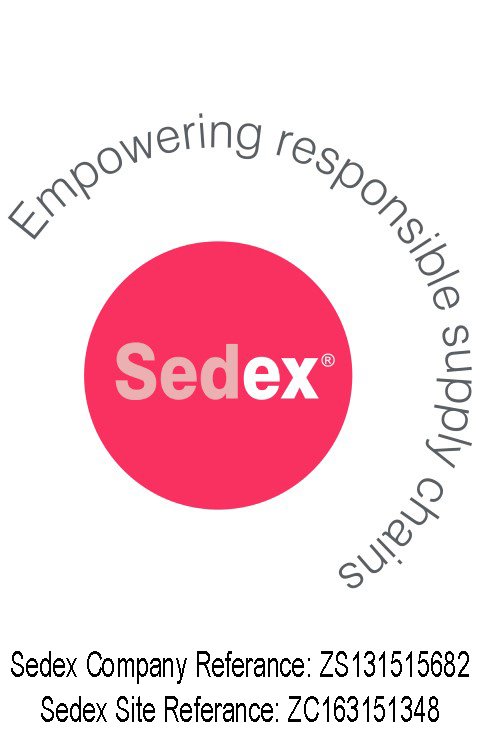 ---
Sedex offers a simple and effective way of managing ethical and responsible practices in your supply chain.
Our core product is Sedex Advance, a secure, online database which allows members to store, share and report on information on four key areas:
Labour Standards
Health & Safety
The Environment
Business Ethics
For buyers – Sedex offers an electronic system for collecting and analysing information on ethical and responsible business practices in your supply chain
A variety of reporting tools enables you to keep track of your suppliers' performance and you will also have access to an advanced Risk Assessment Tool that we have developed with our partner, Maplecroft.
For suppliers – Sedex provides an efficient and cost effective way of sharing ethical information with multiple customers, helping cut down on unnecessary paperwork and saving you time and money.
Suppliers complete one self assessment questionnaire and can choose to share this with multiple customers on Sedex, along with any other relevant ethical information, such as audit reports and certifications.
The Sedex system is secure and confidential and suppliers have complete control over who can view their data.
By allowing suppliers to share the same data with many customers, Sedex helps reduce the need for multiple audits, allowing both parties to concentrate on making real improvements.