0
Month / Ton Manufacture
Zorel Textil İml.Paz.San.und Tic.Ltd.Şti. wurde im Jahr 1989 zum Zweck der Tätigkeiten von Herstellung der Textilien, Handel und um Export-Import-Transaktionen durchzuführen in der Gemeinde Göveçlik in Denizli gegründet. Unsere Firma beschäftigt sich mit den Bearbeitungen von Weberei und Konfektion. In unserer Webereiabteilung haben wir 12 Stück Schaftmaschinen, 6 Jacquard-Webmaschinen, doch in der Konfektionsabteilung haben wir vollautomatische Nähmaschinen, welch in die Schnitthöhe, in die Läge, Breite und in die Enge bearbeiten und es befindet auch Falten und Verpackungslinie in der Abteilung.
In unserer Werkstatt ist die Webekapazität 3.5 Tonnen/ Täglich, Konfektionsabteilung Kapazität ist 5.5 Tonnen/ Täglich für unsere Kunden am Dienste leisten.
PRODUKTE
Unsere Firma führt Handtuch und Bademantel Produktion durch sowie auch die Produktion von Textil- und Konfektion aus.
Räumlichkeit
Die durchschnittlich geschlossene Fläche von 9.800m2. und mit Grünfläche und andere offene Bereiche ist die komplette Fläche insgesamt 32.000m2.
Zertifikaten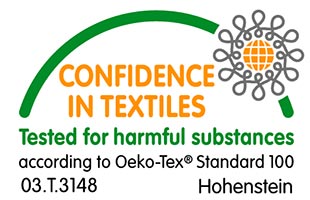 Oekotex 100 Class 1
---
roduct certification according to OEKO-TEX® Standard 100 provides companies along the textile chain with an ideal tool and clear added value for their operational quality assurance. The OEKO-TEX® certificate issued by the commissioned institute or the relevant certification centre is valid for a duration of 12 months....